NovoMoto is one of the first and fast movers in the energy market of the Democratic Republic of Congo.
Founded in 2015, the company is a for-profit social enterprise that distributes solar-powered electricity for off-grid communities in sub-Saharan Africa.
Back in 2015, Mehrdad Arjmand and Aaron Olson, two graduate students at the University of Wisconsin-Madison met in a class at the Wisconsin School of Business.
In that class, named WAVE, students were asked to pick a challenge and work on it during the semester.
Mehrdad, Aaron, and three other students decided to work on the off-grid electricity problem in sub-Saharan Africa, a challenge that has impacted the lives of more than 1 billion people.
At the end of the semester, the project received a "thumbs-up" from the jury members indicating that the challenge is worthwhile pursuing. A few months after that class, Aaron had the chance to visit the Democratic Republic of Congo (DRC), the country where he was born, for the first time as an adult.
After coming back from the trip, Aaron saw the challenge and at the same time the opportunity of impacting lives in DRC.
After returning to the United States, Aaron reached out to all the team members in the WAVE class, and from them, Mehrdad decided to join NovoMoto was founded in 2015 with the mission of providing clean electricity to off-grid communities in sub-Saharan Africa.
In early 2016, NovoMoto was informed about an opportunity to present at the Clean Energy Trust annual event. NovoMoto was honored to receive 3 awards and prizes in that event and that was the first investment in NovoMoto.
In 2017, NovoMoto started its first pilot project in the province of Kinshasa in DRC.
During 2018 and 2019, NovoMoto initiated multiple other pilot projects and analyzed the feedback.
Finally, in 2020, NovoMoto was able to identify a product-market fit and hence started its growth path. After a successful Pre-Seed raise in 2020, NovoMoto was able to deploy that capital into the market and gained some traction in the province of Kinshasa in DRC.
In 2021, NovoMoto continued its growth and expanded its operations to three provinces in the western part of DRC. Besides the growth, NovoMoto was able to address several challenges concerning customer screening, collections, default management, and customer service.
As a result of that, NovoMoto finished 2021 at a high point in terms of key milestones which puts the company in an outstanding position in the industry based on published reports.
NovoMoto brings clean electricity to millions of homes. In sub-Saharan Africa, there are a total of 600 million people that live without access to grid electricity.
This number is expected to increase to 700 million people by 2030. These individuals use Kerosene, flashlights, and diesel to meet their lighting needs with annual expenditures of over 14 billion dollars.
How it Works
Pay-As-You-Go (PAYG)
NovoMoto provides clean electricity to communities in sub-Saharan Africa.
They are displacing expensive, hazardous, and inefficient sources of energy such as flashlights, kerosene lamps, and diesel generators and enabling reliable access to clean power at scale.
NovoMoto offers rent-to-own solar-powered systems directly to customers or as a part of a benefits package offered through enterprise clients.
Customers can use a Pay-As-You-Go (PAYG) system to prepay for a month's worth of electricity – the same way kerosene, diesel, and flashlights are currently purchased. Customers own their systems once the balance is paid in full at the end of the contract period.
32" TV Kit
NovoMoto's kit consists of a battery pack that is connected to a solar panel and select energy-efficient appliances. This battery pack both powers the appliances and enables mobile phone charging. The appliances included in the kit are packaged to meet the needs of the customer.
NovoMoto's 32″ TV Kit is their most popular offering. The kit comes with a 40W or 50W solar panel, a 120Wh battery pack, 5 LED lights, and a 32″ TV.
NovoMoto customers can watch 6+ hours of TV per day, 5 hours of all the LED lights, and also can charge 1-2 phones per day.
Impact
NovoMoto is a for-profit social enterprise to provide clean electricity to millions in sub-Saharan Africa. Being a social enterprise, NovoMoto has a double bottom line: profitability to their investors and bringing a positive impact to their customers' lives.
Novomoto empowers communities by serving as an economic and development partner. Novomoto provides power free of charge to clinics and schools in the communities that we serve. Customers may establish their first line of credit through the purchase of our kits.
Most of NovoMoto's customers are gaining access to electricity in their homes for the first time.
They immediately benefit from a far superior lighting experience. Those that are switching from using kerosene lamps are saving their families from inhaling toxic fumes.
As part of NovoMoto's new marketing strategy, 25 clinics share information about NovoMoto's systems with their patients and community in exchange for a lighting and phone charging system that will help them better serve patients.
Founders
Mehrdad Arjmand
Mehrdad completed his Ph.D. in Engineering Mechanics at the Materials Research Science and Engineering Center at the University of Wisconsin-Madison.
Mehrdad worked in the oil and gas industry before starting his Ph.D.
Mehrdad is passionate to work in the renewable energy sector and enjoys serving customers in emerging markets with huge potential and opportunities.
Aaron Olson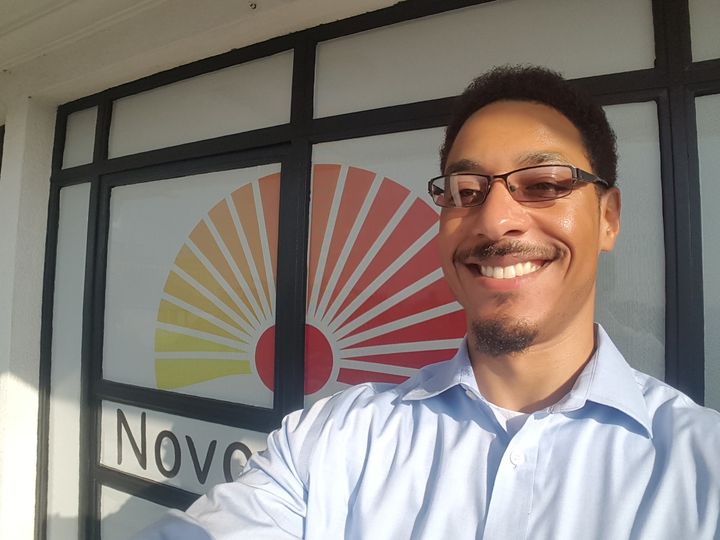 Aaron completed his Ph.D. in Engineering Mechanics at the Fusion Technology Institute at the University of Wisconsin-Madison.
Aaron is a NASA Space Technology Research Fellow and a Graduate Engineering Research Scholars Fellow.
Aaron is originally from Kikwit, DRC, and co-founded NovoMoto to help solve the extreme lack of electricity in his home country.
Investors & Funding Rounds
WeFunder and Others
NovoMoto has raised $318,000 in a round of funding that consisted of three investors.
NovoMoto recently earned $10,000 in the third episode of "Project Pitch It" season 4 on WISN-TV Channel 12.
The startup was also the winner of the 2018 Governor's Business Plan Contest, taking home a cash prize of $190,000.
Main Competitors
Persistent Efficiency: It produces and commercializes sustainable energy-monitoring solutions.
Brighte: This is a sustainable energy technology platform, offering sustainable energy financing solutions and energy for the home.
Plus Power: It offers electric utilities that provide capacity, energy, and ancillary services to energy industries.
Related:
InstaBug: Story, Founders, Investors & Funding Rounds
Healthlane: Story, Founders, Investors & Funding Rounds