Founded in Egypt and headquartered in San Francisco, Instabug was launched in 2016 to help developers better understand the performance of their mobile applications and their impact on user experience.
Instabug is the leading mobile monitoring, crash, and bug-reporting solution for mobile teams and it is providing user feedback and bug reporting for mobile apps.
It provides a seamless way for two-way communication with users while providing detailed environment reports for developers.
The company's robust platform scales with any sized business, allowing indie developers and enterprises alike to seamlessly monitor, alert, prioritize and debug during critical phases of the application life cycle.
Instabug empowers mobile teams of all sizes with a unified mobile observability platform that provides them with both overall performance insights and granular information on the issues experienced by their users.
Its recent decision to expand into monitoring was driven by the fact that consumers have higher expectations from the apps they're using and companies need to be more proactive to prevent bugs from occurring in the first place.
If an app wasn't crashing, that was considered good but now, users increasingly expect apps to not only not crash, but be slick and run well.
When an app crashes, Instabug automatically reports the incident back to its customer. The company goes beyond crash reporting, to give mobile developers detailed information such as where the bugs are, how an app is performing generally, and when it's completely failing.
Instabug has a standard SaaS business model, charging companies that are building mobile apps an annual subscription fee based on how big the app is.
For example, the product is free for a company whose app has less than 10,000 monthly active users.
As a business grows and more sessions are conducted on their app, they pay more. In other words, how much revenue Instabug makes is directly correlated to the number of sessions that are processed on its customers' apps.
The company's software has sat within 2.7 billion mobile devices, processed 110 billion mobile sessions, and helped customers resolve 4.2 billion issues.
How it Works
Instabug's widely adopted bug, crash reporting, and performance monitoring solutions are essential for mobile developers and organizations which place a high value on understanding the performance of their mobile apps and the user experiences they deliver.
It also assists developers in better understanding the performance of their mobile applications and how they affect the user experience.
The company's scalable platform allows independent developers and corporations alike to easily monitor, notify, prioritize, and debug during important points of the application life cycle.
It starts with the mobile app developer integrating their SDK into the app in a process that takes less than a minute to be done.
Then whenever a user wants to send feedback, all they need to do is shake the device to get their feedback form which includes a screenshot of the app that can be annotated to highlight the part relevant to the feedback.
As soon as the user presses the submit button, the developer is notified instantly with a full environment report to check it.
The developer can collaborate with the rest of the team on fixing the bugs reported by tagging, commenting, or assigning them.
Instabug also integrates with other bug tracking and project management tools that you can select to have your bugs forwarded there.
And finally, you can use Instabug to communicate back to the user who reported the bug that the bug has been resolved.
Founders
Omar Gabr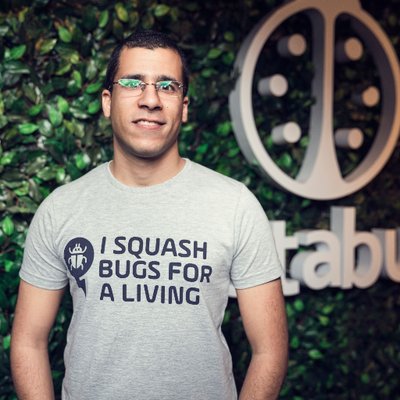 Omar Gabr is a Co-Founder and the Chief Executive Officer at Instabug.
Moataz Soliman
Moataz Soliman is the Co-Founder at Instabug.
Investors & Funding Rounds
Accel (U.S.), Amr Awadallah, Jim Payne, New backers Forge Point Capital and Endeavor.
InstaBug has raised a $5 million Series A round, led by Accel. Other investors joining include Amr Awadallah, co-founder of Cloudera, and Jim Payne, founder and CEO of MoPub, both of whom have invested previously.
Additionally, it has raised $46 million in a Series B funding round led by Insight Partners.
The raise comes just over two years after the startup raised $5 million in a Series A round led by Accel, which doubled down on its investment in the latest financing.
New backers Forge Point Capital and Endeavor also put money in the round. The company declined to reveal its current valuation. The new capital brings its total equity raised to date to $54 million.
Instabug had previously invested more in compliance and security so it would be able to onboard large organizations, including banks and telcos.
Landing more enterprise clients has been one of the main drivers of the company's revenue growth.
Instabug also saw record growth in 2021, a year in which it saw its ARR double and the number of enterprise customers grow, landing new clients such as DoorDash, Verizon, Qualtrics, Porsche, and Gojek to join existing ones such as Clubhouse.
Overall, Instabug counts many of the fortune 500 companies and top 100 apps on the app store as customers.
Main Competitors
8th Wall: This is a cross-platform development solution for building AR experiences that run on the mobile web and iOS/Android applications.
Modo Labs: It empowers ordinary people to create extraordinary apps, with no technical skills required.
Occipital: This is a software startup that develops mobile computer vision applications.
Related:
East Africa Fruits Co: Story, Founders, Investors & Funding Rounds
Brimore: Story, Founders, Investors & Funding Rounds
Apollo Agriculture: Story, Founders, Investors & Funding Rounds