Founded in 2019, Apollo Agriculture empowers farmers to increase their profitability with access to financing, high-quality farm inputs, insurance, and optimized advice.
The startup leverages machine learning, remote sensing, and mobile payments to accurately underwrite farm credit risk and has built an automatically managed network of more than 5,000 agents and nearly 1,000 retailers that enable last-mile delivery of farm inputs and services to small-scale farmers.
Apollo Agriculture is a technology company based in Nairobi, Kenya that helps small-scale farmers maximize their profits.
Apollo bundles everything a farmer needs: financing, farm inputs, advice, insurance, and market access, when possible.
Satellite data and machine learning enable better credit decisions, and automated operations keep costs low and process scalable.
Apollo Agriculture has emerged as Africa's leading agricultural fintech, growing revenue since its Series A. Apollo Agriculture's commercial farming platform is at the critical intersection of economic opportunity and climate impact, helping small-scale farmers build resiliency to adapt to a changing climate.
Africa accounts for more than 20% of global farmland, with agriculture in the region predicted to become a $1 trillion market over the next decade.
Africa's continued population growth and increased global food demand mean the region's strategic importance in global food production will only increase.
Despite this potential, African farmers have long struggled to access credit and high-quality farming tools, leaving average farm yields per acre.
Apollo Agriculture directly addresses these challenges and empowers farmers to increase their profitability with access to financing, high-quality farm inputs, insurance, and optimized advice.
How it Works
Apollo Agriculture leverages advances in machine learning, remote sensing, and mobile money to deliver input finance and agronomic advice to smallholders at a dramatically lower cost than current solutions.
Apollo's digital approach reduces costs and enables rapid scale. Apollo builds machine learning models that process satellite data to infer characteristics of individual farms, such as estimated yields, and uses these models to assess credit risk.
For the millions of smallholders dependent on agriculture, these models provide a detailed picture of their economic life.
Apollo's key innovation is the delivery of a proven product – bundled seed, fertilizer, insurance, and credit advice – through a digital, vertically integrated, and cost-effective approach.
This starts with the use of high-resolution satellite imagery and machine learning to develop credit profiles for smallholder farmers who otherwise have no financial personality.
Complementing this are automated processes from customer acquisition to repayment, that radically reduce the cost of acquiring and serving smallholder customers.
In addition, the company's commission-based rural task force automatically managed through a mobile app gives Apollo a low-cost, as-needed customer touch point for in-person interactions like GPS mapping, soil sampling, and harvest measurement.
Additionally, Apollo provides voice training in recognition that their average customer is 50 years old and does not engage effectively via SMS.
Founders
Eli Pollak
Eli Pollak is the Founder and CEO of Apollo Agriculture.
He previously worked at The Climate Corporation as a Senior Product Manager.
Eli Pollak attended Stanford University.
Benjamin Njenga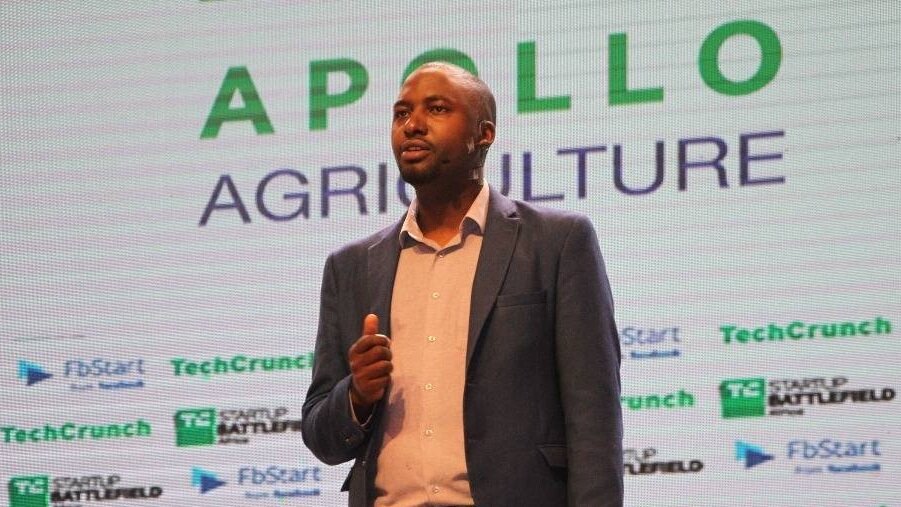 Benjamin Njenga is the Co-Founder and Chief Customer Officer of Apollo Agriculture.
He previously worked at ACRE Africa as a Deputy MD and Commercial Director.
Benjamin Njenga attended Jomo Kenyatta University of Agriculture and Technology.
Earl St Sauver
Earl St Sauver is the Co-founder and CTO of Apollo Agriculture.
He previously worked at The Climate Corporation as a Software Engineer.
Earl St Sauver attended Tufts University.
Investors & Funding Rounds
Anthemis Group, Leaps by Bayer, Accion Venture Lab, Flourish Ventures, Newid Capital, To Ventures Food, Breyer Labs, Sage Hill Capital
Apollo Agriculture has raised $6 million in Series A financing. The round was led by Anthemis Exponential Ventures, with participation from Leaps by Bayer, Flourish Ventures (a venture of The Omidyar Group), Sage Hill Capital, To Ventures Food, Breyer Labs, and existing investors Accion Venture Lab, and Newid Capital, among others.
It has also raised a US$40 million Series B funding round to help it expand internationally and enhance its product.
Its US$40 million Series B is led by Softbank Vision Fund 2, and also includes participation from the Chan Zuckerberg Initiative, Yara Growth Ventures, Endeavor Catalyst, CDC, and existing investors including Anthemis Exponential Ventures, Flourish Ventures, Leaps by Bayer, SBI, Breyer Capital, and TO Ventures Food.
Apollo will use the funding to expand geographically, enhance its products and technology, and keep building its world-class team.
The business has a strong team across its Nairobi, Amsterdam, and remote offices and plans to expand its operations, software engineering, data science, and marketing teams over the next few years.
Main Competitors
Nile. ag: This is an agritech company that connects farmers with buyers of fresh produce.
Falca: This is an agricultural-based farming solutions agency that provides farming solutions to farmers.
ThriveAgric: It is building the largest network of profitable farmers across Africa.
Related:
Access Afya: Story, Founders, Investors & Funding Rounds
Play Sense: Story, Founders, Investors & Funding Rounds