Afriwise was launched at the end of 2018 to address the poor availability of up-to-date and quality legal information across Africa.
Existing solutions were failing to meet needs and expectations, with providers not focused on Africa and information often patchy, inconsistent, and not properly maintained.
While even basic legislation can be difficult to find, there are other specific legal challenges such as unusual concepts, incomplete and incoherent legal frameworks, lack of transparency, form-over-substance issues, and, more importantly, established practices that may differ from written laws.
Legal counsel and compliance officers at companies active in Africa, experiencing the fear and panic of advising their internal stakeholders from a position of total ignorance, are often faced with only one option – directly instructing in-country counsel.
This has fostered an environment where organizations in Africa are confronted with high and unpredictable legal costs.
Today, if legal counsel or compliance officers want to know what merger thresholds apply in the DRC, or what data protection requirements apply in Nigeria, they can simply log on to the Afriwise platform and instantly find the answer and all information pertinent to the topic.
Crucially, the legal content is constantly being reviewed and updated on a purpose-built online user interface.
The platform also features legal-monitoring tools, an underlying service for clarification requests, and direct access to top in-country legal experts.
How it Works
At the heart of the design of their solutions is a focus on meeting their subscribers' current and future needs. Afriwise is built to grow with them: their platform and solutions are tailored to their needs, at every stage of their (corporate) lifecycle.
This is why Afriwise subscribers are offered a free underlying service to request clarifications, suggest new questions, and ask for introductions.
Additionally, they are proactive, hands-on, and fast in their service rendering, and are always in close contact with their clients, so that they can keep their legal solutions relevant in solving their daily problems, cost-effectively and accurately.
Founders
Steven De Backer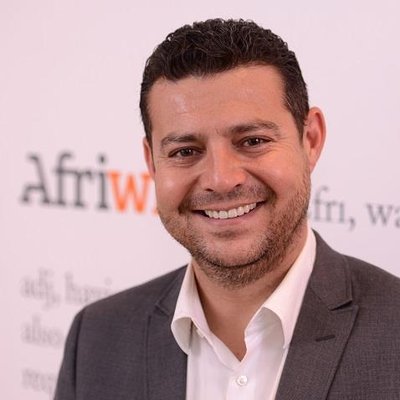 Steven is the founder and CEO of Afriwise. Afriwise is the culmination of his career, from top roles at leading African and international law firms, managing internet projects, and lecturing about legal-tech possibilities as early as 1999.
Early on in his career, Steven was part of a small team at a European stock broker that launched the leading online trading platform in Belgium.
It was a good start, but Steven quickly moved on to the legal sector. After a stint at magic circle firm Freshfields, he returned to Africa (where he grew up) to practice as a lawyer.
Since 2003, Steven has relentlessly pursued ways to improve corporate legal services delivery in Africa.
He was at the forefront of establishing and deepening a network of associated firms in Africa, helped to develop the African practice of what is today one of the leading law firms on the continent, and founded an innovative interdisciplinary advisory firm in 2014.
His main goal has always been to help businesses work smarter and more effectively in Africa.
A seasoned lawyer in his own right, Steven is named by the prestigious English research firm Chambers & Partners in Chambers Global as one of the leading corporate/M&A; projects & energy; and general business law lawyers in Africa.
Chambers has noted that he is very well known for his work for clients across the African continent and is described by clients as "a class act", stating that "there's not much he doesn't know about sub-Saharan Africa".
Having lived and worked on the African continent for almost 30 years, in five countries, and has advised companies in over 40 African countries, Steven indeed has unparalleled on-the-ground, hands-on experience and a unique in-depth knowledge of navigating challenges in Africa.
Investors & Funding Rounds
Angel investors
Afriwise has gained a €1m investment from a pair of angel investors.
The angel investors in Afriwise were Jacques Emsens and Christophe de Limburg Stirum, both also from Belgium.
The investment will be used to add more relevant content for users, accelerate growth into new countries, and further develop the platform's technology. At present, Deloitte, Vodafone, Roche, and DHL, among other major companies, are all listed as users of the system.
Additional investment will fund the expansion of Afriwise's legal technology and publishing offers.
Both new investors are part of the investment group JPSeven, which Emsens co-founded, and hold a range of board positions.
Afriwise clients include Vodafone, DHL, MTN, French logistics corporation Bolloré, and healthcare multinational Roche.
Afriwise works with over 100 law firms across Africa to provide the in-depth practical legal guidance available on the platform, making it the largest collaborative effort ever undertaken in the African professional services sector.
Main Competitors
UniCourt: This is the original Legal Data as a Service (LDaaS) company, providing real-time court data and legal analytics you can trust powered by the only API-first platform in LegalTech. UniCourt's mission is to make legal data more organized, accessible, and useful for Am Law firms and Fortune 500 companies. The UniCourt Enterprise API is the gold standard in legal data, enabling rapid API integration, delivering real-time updates, and enabling optimal litigation outcomes.
BQE CORE Legal: It's now easier than ever for Law firms to capture all their billable hours with BQE Core Legal, a robust, fully-integrated cloud-based time billing, accounting, and matter management platform.
BQE Core lets Legal Professionals track billable hours and manage expenses effortlessly from anywhere, anytime, on any device.
BQE Core's powerful, easy-to-use dashboards deliver real-time insight into your firm's financials, matters, and tools for tracking staff performance and are customizable and automated.
Lexis: Built on the foundations of Lexis Advance.
With Lexis, your favorite lexis.com research features are still available but enhanced with more functionality and added options than ever before. Lexis offers more Alert types, a streamlined setup, and added flexibility at no added cost.
Lexis has a unique Shepard preview, faster validation tools, and visual maps of citing decisions. See how Shepard's compares on Lexis and at lexis.com.
Related:
Prospa: Story, Founders, Investors & Funding Rounds
Arifpay: Story, Founders, Investors & Funding Rounds