The Zambian woman-led business WidEnergy Africa was established in September 2016 by Liliane Munezero Chabuka, Agnes Imasiku, and BiziSol which is a Sweden-based social for-profit enterprise that empowers African women in clean energy.
The energy startup provides a last-mile distribution of clean energy solutions.
WidEnergy has displayed growth with the Paygo model, which is the pay-as-you-go model, and provided solar home systems to Zambians living in rural areas.
The clean energy startup is a suitable investment candidate for ShEquity as it aims to support innovative tech-driven businesses led by women and supports women.
The startup aims to reduce deforestation in Zambia by accelerating its distribution of clean energy cookstoves and renewably-powered alternatives for domestic appliances that are necessary.
WidEnergy works with predominantly women sales agents to provide access to energy that is affordable while creating job opportunities for women in rural Africa.
WidEnergy has reportedly almost doubled its customer base within the last year and aims to accelerate the development of infrastructure to support Africa's transition to renewable energy.
WidEnergy, the name of which is an acronym for "Women in Development," reflecting the startup's goal of engaging women as active participants in Africa's energy transition, leverages a pay-as-you-go (PAYG) model to provide solar-powered homes and appliances.
The startup works with female sales agents to distribute renewable energy solutions across Zambia, focusing on core competencies in lending and distribution to develop a high-quality lending portfolio with minimized default risks.
Widenergy Africa Ltd is a women–led company, registered in Zambia, dedicated to the empowerment of women and providing last-mile distribution of clean energy solutions.
Incorporated under the Zambian law in September 2016, WidEnergy Africa was co-founded by two passionate women Liliane Munezero Chabuka and Agnes Imasiku, and BizSol, a Sweden-based social for-profit enterprise, committed to empowering African women in clean energy.
WidEnergy has grown from a cash-on-delivery distributor of Pico solar products to a Pay-As-You-Go (PAYGO) asset-backed financing company.
By empowering women as door-to-door distribution agents and ambassadors for clean energy to combat climate change AND building a women-driven, last-mile delivery network that delivers high-quality and affordable solar home energy solutions to their communities intending to eradicate energy poverty.
Beyond supplying affordable solar products, WidEnergy provides training and jobs as door-to-door sales agents to women and girls, providing sustainable employment and earnings to counteract the negative consequences of extreme poverty.
Their training includes a capacity-building program, focused on increasing women's knowledge of the benefits of using high-quality clean energy products, the risk of climate change on women's lives, and their abilities to become the change-makers in climate change adaptation and mitigation, at the community level.
Additionally, WidEnergy has its Women in Energy Hubs (WeHUB) concept, funded by EEP Africa. WeHuB builds a network of service centers serving rural and remote areas to more efficiently deliver last-mile and off-grid energy solutions.
Each hub is capable of powering several small businesses and will be managed in partnership with local women entrepreneurs, selected from the best-performing WidEnergy Sales Agents.
How it Works
d.light D180
WidEnergy Africa is proud to be the exclusive Zambian distributor of D-Light solar home systems and clean energy products.
They are quality driven, the products we distribute are Lighting Global certified, and have a minimum of 2 years warranty.
The d.light D180 solar home system is the ideal power grid for your home or business, bundled with lights and useful accessories and supported by their Pay-as-you-go technology allowing you to pay in easy installments.
This modern, efficient energy solution includes a solar panel, a mobile-charging battery pack, three solar lights, three light switches, a torch, and an FM radio. Upgrade to a modern lifestyle with the d.light D180.
Founders
Liliane Munezero Ndabaneze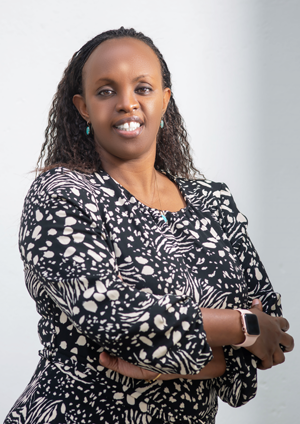 Liliane Ndabaneze is the current CEO of WidEnergy Africa.
She has spent several years in the clean energy industry with 20 of those years as a project manager.
In her current role as CEO, she is responsible for the development, implementation, and management of projects including plumbing and heating schemes for large-scale buildings, new build fit-outs, renovations, energy efficiency studies, wastewater, and drainage system assessments for both domestic and industrial applications.
As well as day-to-day management of their client's expectations and in addition, the provision of onsite training to internal staff and third-party contractors.
Liliane Ndabaneze attended the University of Rwanda.
Investors & Funding Rounds
GSMA Innovation Fund

The GSMA Innovation Fund for Mobile Internet Adoption and Digital Inclusion was set up to help address the key digital inclusion barriers that are preventing 3.4 billion people from adopting life-enhancing mobile internet services.
The fund was launched in April 2020 with support from the UK Foreign, Commonwealth & Development Office (FCDO), the Deutsche Gesellschaft fȕr Internationale Zusammenarbeit (GIZ) GmbH, the GSMA, and its members.
They received a total of 598 applications from start-ups and SMEs in 44 countries across Africa and Asia. 
After a rigorous evaluation process followed by a selection from an independent panel of industry experts, they are now pleased to announce the nine grantees: Africa 118, Ensibuuko, Knowledge Platform, Navana Tech, ScholarX, The Orenda Project, Vceela, WidEnergy Ltd and Zonful Energy.
They are delighted to be supporting this extraordinary group of organizations that are committed to closing the mobile internet usage gap and delivering lasting impact to their local societies and economies.
Additionally, the investment aims to assist Zambians in rural areas who don't have access to clean energy solutions.
Main Competitors
NovoMoto: This is a sustainable social enterprise that aims to provide clean, renewable, and sustainable electricity to communities in the DRC.
ONergy Solar: It is a social enterprise that offers decentralized energy solutions to underserved households and institutions.
AlsoEnergy: This provides complete solutions for the control, monitoring, and management of solar PV and solar plus storage assets.
Related:
Scholarx: Story, Founders, Investors & Funding Rounds
Esibuuko: Story, Founders, Investors & Funding Rounds