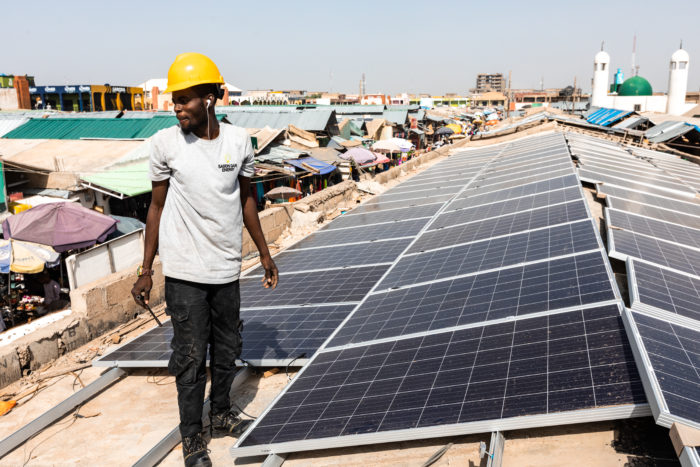 Rensource has become the leading provider of services related to renewable energy in West Africa. It does this to fill the gap between the need for and supply of electricity. The company focuses on designing, building, and financing solar-hybrid captive power systems for commercial, industrial, and utility clients.
Rensource uses a wide range of combinations of solar power and power from fossil fuels, mostly gas and diesel, but it can also use natural gas with the right battery storage options.
Rensource lets eligible businesses in Nigeria and West Africa sign up for their platform so they can start giving their customers Power as a Service (PaaS).
It is also a provider of energy-focused finance and development services for improving and maintaining the backbone of the economy that helps small and medium-sized businesses (SMEs) grow. Small and medium-sized businesses in West Africa can use the organization's resources to become more digitally advanced and increase their productivity. This helps small and medium-sized businesses save money on their energy bills by switching to solar power and other sources of clean energy.
How it Works
Rensource's solution is to collect solar energy and sell it to customers using the "Power as a Service " idea. Direct Current (DC) power from our solar panels is sent to an inverter, where it is changed into Alternating Current (AC), which is used more often and is more efficient so that our loads can use it.
Their system can power any kind of equipment, from printers and industrial air conditioners to huge lathe machines, as long as there is enough space on the roof and ground to install solar PV panels.
Their solution may save you money on power costs, depending on how much power you use and where you live compared to the grid or a generator.
There are no fees or costs on top of what has been talked about and agreed upon. They do, however, reserve the right to charge fees for repairs if a customer messes with or breaks something by accident or by not taking care of it.
Offerings
They use a wide range of technologies to make sure that their commercial and industrial customers have a steady, safe, and affordable supply of electricity.
They take a custom approach by making designs based on in-depth analyses of their clients' power needs, and they only offer options that are cheaper than their current ways of making power. When making a solution, they think about how long it will last because being environmentally responsible is one of their top priorities.
Solar PV (+ batteries)
You make a Power Purchase Agreement (PPA) with Rensource and start paying them regularly. A Service Level Agreement (SLA) will tell them how to do their jobs under this PPA and make sure they get the services you paid for.
Solar PV Hybrid (+ diesel/gas and grid)
It uses photovoltaic cells to get energy from the sun. When there isn't enough solar power or it's not available, the battery stores the extra so it can be used later (e.g. outside peak sun hours or cloudy days).
Solar PV BESS (+ batteries, diesel/gas, and grid)
The photovoltaic diesel hybrid system is a way to get the power that uses both solar panels and diesel generators. In a PV diesel hybrid system, the electricity from the PV system and the diesel Genset is always enough to meet the load needs.
When neither the grid nor a generator is available, this system uses electricity from batteries instead.
The BESS stores any extra energy made by the solar PV system in batteries so that it can be used as a backup power source when it is little or no PV electricity (e.g. outside peak sun hours or cloudy days).
Founders
Ademola Adesina
He helped start Sabi and is now in charge of the company's corporate development. Sabi is the top provider of digital commerce infrastructure in Africa. It helps and develops some of the poorest business owners on the continent.
Before that, he co-founded Rensource, a business that helps businesses and industries in West Africa use solar energy.
He worked as an Entrepreneur in Residence for Capricorn Investment Group, the Palo Alto-based investment arm of the Skoll Foundation and Jeff Skoll before he started Rensource.
He was in charge of business growth and strategy for Aquifer, a London-based investment holding company with a focus on Africa before he joined the Gatsby Trust.
He joined Aquifer from the Rockefeller Foundation in New York, where he worked on the project that led to the creation of the Global Impact Investing Network.
In the beginning, he worked in New York for the Global Markets division of JPMorgan's investment bank. There, he was in charge of selling and setting up credit derivatives.
Additionally, Ademola Adesina has worked in Africa, the United States, and Europe, among other places.
Jussi Savukoski
Jussi Savukoski is the co-founder & executive director at Rensource Energy.
Investors & Funding Rounds
CRE Venture Capital, Omidyar network
Rensource Energy got $20 million in its Series A funding round, which was led by Omidyar Network and CRE Venture Capital.
The company works with a German company called BOS AG to make custom panels for its applications. Rensource's software is made by a group of programmers from all over the world, including some from Nigeria and Europe.
The goal of the startup is to provide micro-energy and other B2B services to Nigeria's growing SME class.
The $20 million investment paid for Spaces Offline to Online, a new platform from Rensource for services in the supply chain, such as company analytics and working cash.
Rensource earns money by charging merchants a small fee every time they use their service and it is making its list of extra services look like those of other Nigerian companies, like logistics company Kobo360 and ride-hailing company Gokada.
Main Competitors
CalWave Power Technologies: They offer energy, clean energy, ocean energy, and wave power.
ZincFive: This is a company that makes smart solutions for storing and delivering energy, and offers power supply (UPS) solutions based on nickel-zinc batteries.
Azure Power: It is an Indian company that sells solar power to businesses, the government, and utilities.
Related:
Libryo: Story, Founders, Investors & Funding Rounds
Tatemakers Africa: Story, Founders, Investors & Funding Rounds