Qotto is a French company that was started in 2016. They are a company in Africa that sells and puts solar panels on homes. Since it started in Benin, Qotto has sent its local staff out into the countryside every day to build relationships with villages, find new customers, and install solar power systems in their homes.
Qotto uses a strategy called "lease to own," which lets people pay for things with their cell phones. They use solar power to power their homes, and they keep an eye on it from afar. They built a machine-to-machine protocol on top of an Internet of Things smart card so that they could check on the status of their systems for preventative maintenance, correct sizing, and keep people from messing with them.
Their systems can put out anywhere from 50 Wp to 400Wp of power. Lights and a TV are already there, and they offer hardware and appliance upgrades, such as more lights, radios, and refrigerators.
Their goal at Qotto is to give their customers the tools they need to take charge of their financial futures.
How it Works
Africa needs electricity because 630 million people are currently living in the dark. Most people, on the other hand, already spend a lot of money on things like kerosene lamps, candles, and batteries.
Qotto offers a subscription service that costs about the same amount per day as other backup solutions. Also, after making payments for three years, the customer owns the kit outright.
A small number of families are not the only ones who can pay. Today, established businesses can recoup costs for tens of thousands of pieces of equipment installed in homes at a rate of 95 percent or higher.
Also, the target market for this project—rural families with stable incomes that allow them to use telecommunications regularly—matches the needs for a GSM network in the area where it will be set up. Their solutions are easier for them to use because these households already know how to use mobile devices.
The Qotto Light kit
The Qotto Light package comes with a solar panel, a battery that can power four bulbs, and two USB ports that can be used to charge other devices.
When the sun goes down, Qotto does not. Literacy, math, and play are all ways to learn and have fun, no matter what time of day it is. The phone is also always charged and ready to be used.
The Qotto TV kit
The Qotto TV kit is a panel, and a battery, enough to connect 4 lamps and television, always with USB ports to charge mobile phones.
In addition to light, we have access to information, culture, entertainment, and cinema. And TV brings family, friends, and neighbors together! You can also add the Satellite or Canal+ decoder of your choice.
Storage Batteries
For the first kits, they chose to store things in the lead because it is cheap and easy to work with. The chemistry of lead acid batteries is not ideal for charging and discharging them often and regularly, but the low cost of the solution and how easy it is to maintain and get more make up for this.
As the cost of storing energy in batteries keeps going down, lithium-ion or other chemistries will be looked into in the future. Lithium-ion batteries last much longer than lead batteries and are smaller and lighter, so they are a better choice and lithium solutions are much more expensive than lead solutions.
Payment
Using ways to pay without paper has been a big part of how East African telecoms have grown. So, their system uses this technology, which makes mobile micropayments possible.
In the meantime, they're working on a charging system that uses codes generated by a mobile app and server, so that as many people as possible can use their power access solution before it's used by everyone.
Founders
Jean-Baptiste Lenoir
Jean-Baptiste Lenoir is the President and Co-founder of Qotto.
In 1993, Jean-Baptiste took a break from engineering school to help build a school in Burkina Faso. As he travels across the country and the continent, he can feel its energy. Jean-Baptiste worked in telecommunications for a few years before he quit because of how the internet has changed business.
In 2003, he worked with Action Contre la Faim in Somalia. There, he lived off the grid for the first time. Jean-Baptiste went back to work for Thomson Telecom as their Sales Director for Europe, the Middle East, and Africa when he moved back to France.
In 2012, when Jean-Baptiste was getting his Master of Business Administration, he saw how much help the people of Sub-Saharan Africa needed. He is taking on the problem of getting electricity to rural areas by drawing on his experience in Africa and business.
Jean-Baptiste is in charge of marketing, sales, and setting up Qotto in Africa.
Fabrice de Gaudemar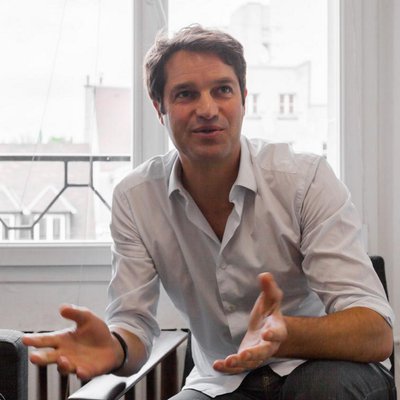 Fabrice de Gaudemaus is the Co-Founder of Qotto.
After studying engineering at Ecole Polytechnique and Télécom ParisTech, he worked for the Ministry of Defense to set up satellite networks, mostly in Africa.
When he joined the French company Eurazeo in 2000, he got his start in the business of investing. During his time there, he helped the company invest in companies like Eurazeo, Rexel, and Europcar.
In 2010, he became a member of the Eurazeo Executive Board, where he set up the company's CSR Department and Eurazeo Croissance, a way to fund businesses that are growing quickly in cutting-edge industries like clean technology and renewable energy.
After a while, he saw the promise of alternative energy sources and decentralized power generation.
In 2015, he co-founded Sqreen, a startup that makes self-protection software for online apps. In 2016, he co-founded Qotto with Jean-Baptiste, becoming an entrepreneur instead of just an investor. He is also a Business Angel and the head of a few new businesses.
Fabrice is in charge of Qotto's technical and financial operations.
Investors & Funding Rounds
Sowefund, Others
To help the French startup Qotto reach its goal of bringing electricity to homes in Benin and Burkina Faso that are not connected to the grid, the company has raised €2 million ($2.43 million).
The European Investment Fund's Off-Grid Energy Finance Loan Fund (EIF OGEF) helps innovative businesses in the off-grid energy industry grow by giving them mostly secured loans.
The EIF OGEF is giving Qotto a loan of €2 million ($2.43 million) so that it can offer its services in Benin and Burkina Faso. Most of the time, a company that sells solar kits only sets up its equipment in remote areas. Through the Africa Enterprise Challenge Fund, $700,000 has been raised for Burkina Faso.
The US government pays for the Off-Grid Clean Energy Facility of the Millennium Challenge Corporation, which is giving Benin a grant of $1.8 million.
With the help of funding from the EIF OGEF, the French startup can now raise the 6 million euros it needs to start sending solar equipment to customers in West Africa. The rest of the money will come from "business angels," which are investors who care a lot about the project.
Main Competitors
Scatec Solar: This Is one of the biggest companies that sell PV solar energy systems, and it is growing quickly.
Nova Lumos: It made a solar array so that homes and businesses that are not connected to the power grid could get solar electricity.
Azuri Technologies: Rural Africans who live off the grid can now get cheap solar power thanks to Azuri.
Related:
WhereIsMyTransport: Story, Founders, Investors & Funding Rounds
Vezeeta: Story, Founders, Investors & Funding Rounds