Launched in 2019, Bitmama provides a secured blockchain infrastructure that allows users across Africa to transact Bitcoin, Ethereum, Celo, and other cryptocurrencies.
Simultaneously, its payment solution Changera enables cross-border payment and remittance for businesses and individuals in Africa and globally.
Bitmama started as a P2P digital currency exchange. It quickly grew into a platform where individuals can trade and manage cryptocurrencies, and digital assets conveniently.
Today, they offer a trusted platform for cryptocurrency transactions. They are also building technology that will redefine the way people do financial transactions through blockchain technology.
Currently present in Nigeria, Ghana, and Kenya, Bitmama enables its users to trade several cryptocurrencies, use their debit cards for regular online payments, pay utilities, and perform transactions such as staking to hedge against currency devaluation.
The startup's major products are the Bitmama exchange, which allows users to access virtual assets and explore several cryptocurrency use cases, and Changera, a social payment solution that allows non-crypto-savvy customers to use their money without limits from anywhere in the world.
How it Works
Registration
You can create an account with zero balance. Bitmama does not require an opening balance in your fiat or crypto wallet to create an account
Changera
Changera is the fastest way to send and receive money globally.
After your account has been verified, you can easily create a maximum of 3 wallets as a freemium user.
Simply go to your wallets and add the wallet currency of the wallet you want to create.
The coins supported on Changera are USDC, cUSD, cEUR, and USDT (TRC-20 and ERC-20 networks) and you can use them to fund your Changera virtual card.
You can also convert the coin to your local currency and withdraw it to your bank account.
Fiat is the same as the local currency. FIAT wallets supported on Changera include Euro (EUR), Ghanaian cedis (GHS), Kenyan Shillings (KES), Nigerian Naira (NGN), Pounds (GBP), and U.S Dollars (USD).
To make wallet-to-wallet transactions, go to the Send Money feature on the Changera app, select the wallet you want to transfer from, and select the transaction type – either via Bank transfer or Wallet-to-Wallet.
To create more wallets, you can subscribe to either the Freelancer plan or Premium plan and there is no daily card limit on virtual cards. However, the maximum amount your card can hold at any given time is $2500.
You use the same username you used to register. You can find your username in the profile section of your mobile app.
Bitmama P2P (Peer to Peer)
Bitmama P2P (Peer to Peer) is a peer-to-peer system that allows users to trade directly with other traders by exchanging crypto coins for fiat. It works in a quite simple manner.
Once the buyer sends fiat, the seller releases the coin to the buyer. To protect our users and ensure trust, safety, and security while trading, Bitmama P2P operates an escrow payment system, where the seller's crypto is held and only released to the buyer after payment is confirmed.
Bitmama P2P hosts several listings created by verified market makers. They are a leading crypto platform trusted by key market players.
Bitmama Crypto Card
The Bitmama Crypto card works like any other credit card. But, instead of using funds from a bank account, you will fund the card from your crypto (stable coins) wallet on Bitmama. The stablecoins will be converted to US dollars on your card.
After funding your card, you are ready to use it anywhere Mastercard is accepted. Use the Bitmama virtual and physical Crypto Card to make payments for international transactions in USD.
To get the Bitmama card, sign up or download the Bitmama mobile app to complete the verification process to level 3.
After the verification approval, you'll be ready to get the crypto card, fund it and start spending. Use the virtual crypto card instantly.
Currently, Bitmama Card accepts stablecoins, which allows you to fund your crypto card with USDC (Usd Coin), USDT (Tether), and USD (Celo dollar).
Funds can be added to the Bitmama card using USDC, USDT, and cUSD wallets through the Bitmama app or website.
Bitmama Card is the best crypto credit card you can use to make payments online wherever Mastercard is accepted. With the card, You make payments in Us dollars, not in crypto. Use it to buy things from your favorite brands, buy gift cards, invest, etc.
Additionally, you can use your Bitmama card for payment on any merchant's platform that accepts MasterCard, you pay in Us dollars not in cryptocurrency, and businesses don't have to accept crypto for our cards to work on their payment platform.
Bitmama partners program
The Bitmama partners program allows you to earn money for sharing Bitmama with everybody in your circles.
You can share content about Bitmama using your personal referral code or link on social media, blog, YouTube Channel, or using word of mouth.
Once someone registers on bitmama.io using your referral code or link and completes a transaction, you'll get commissions. This reward will automatically be added to your wallet balance.
All Bitmama customers, bloggers, influencers, publishers, and content creators with a qualifying website, YouTube channel, social media pages or mobile apps can participate in the Bitmama partners program.
You'll earn from complete transactions made by users you refer to Bitmama. The more your referrals transact on Bitmama, the more income you receive.
Additionally, you can find your referral code or link on your account dashboard on Bitmama and you can also track the activity of your referrals and the number of your earnings on your partner's dashboard.
Founders
Ruth Iselema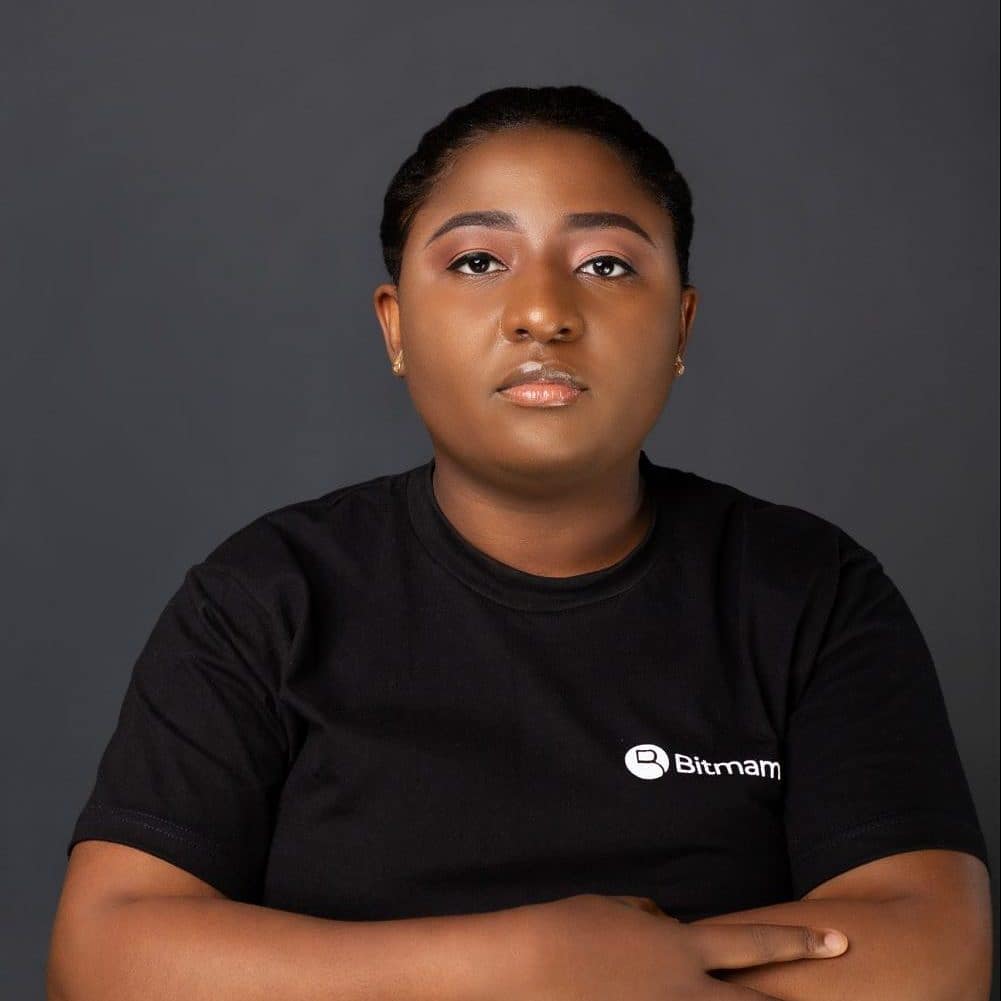 Ruth Iselema is the Founder and CEO of Bitmama.
Ruth Iselema attended Startup School Online.
Investors & Funding Rounds
Emergence Capital, Tekedia Capital, GreenHouse Capital, ODBA, Five35 Ventures, Chrysalis Capital, Enrich Africa, Thrive Africa, Angellist Ventures, and angel investors including CELO founders: Rene Reinsberg, and Marek Olszewski, and Honey Ogundeyi.
Bitmama has raised an additional $1.65 million in funding, bringing its total pre-seed round to $2 million.
Bitmama's initial $350,000 pre-seed was raised in October 2021 and included investors Unicorn Growth Capital, Launch Africa Ventures, Adaverse, and Flori Ventures.
The new round includes investors from the initial pre-seed round as well as new investors including Tekedia Capital, GreenHouse Capital, ODBA, Five35 Ventures, Chrysalis Capital, Enrich Africa, Thrive Africa, Angellist Ventures, and angel investors including CELO founders: Rene Reinsberg, and Marek Olszewski, and Honey Ogundeyi.
Bitmama will use the funding to expand its operational presence, strengthen its team across different markets, consolidate its product offerings, and plot market penetration across Africa, while rapidly scaling new use cases for cryptocurrency within the continent.
Main Competitors
Bitpanda: This is a centralized crypto exchange that provides users access to digital assets.
Gitcoin: It is a platform that enables open-source developers to monetize their work when it is used.
Kraken: This is a cryptocurrency exchange that provides spot and futures trading between Bitcoin, Ethereum, and over 40 other digital assets.
Related:
Kosa Al: Story, Founders, Investors & Funding Rounds
Ctrl: Story, Founders, Investors & Funding Rounds