Ampersand is Africa's first and leading integrated electric motorcycle and transport energy solution. They offer East Africa's five million taxi motorcyclists a commercial electric motorcycle that is cheaper from day one, provides a better overall user experience, and requires minimal customer behavior change.
Using technology adapted for the local market and the right business model to achieve scale, vehicles deliver superior driving performance, emit 75% less carbon than petrol motorcycles with zero tailpipe emissions, and put over $500 a year back into drivers' pockets.
In May 2019 Ampersand launched a new era in African mobility with 20 e-motos. Since then, they have put hundreds of e-motos on the road and these are operating on a commercial basis, taking passengers and goods across Kigali and Nairobi.
Headquartered in Kigali, Ampersand has grown from a tiny bootstrapped R&D garage project into East Africa's leading electric vehicle operation, with a team of more than 180 staff in Rwanda, Kenya, and Germany.
All Ampersand motorcycles and batteries are assembled on-site by their talented team.
Investing in the next generation of African developers and engineers is crucial to putting Africa on the map and leading the way with new technologies.
Ampersand was founded to achieve a crucial tipping point in the fight against climate change: the world's first mass-market electric vehicle that costs less to acquire, maintain and operate than a fuel vehicle.
Years of work have gone into identifying the right market and designing the vehicle and business model hand in hand with our users to get the right fit.
They make the electric option the obvious choice for customers by putting serious money back into the pockets of low-income drivers and their families.
In the process, they help propel the EV industry to scale and prove to the world that the fuel age is over and electric mobility is for everyone.
Ampersand motorcycles are designed to outcompete the incumbent 125cc and 150cc petrol motorcycles on power, durability, and performance.
The motorcycles cost less than petrol bikes to lease or buy and half as much to power. They produce 75% less lifecycle greenhouse emissions than petrol motorbikes using grid power, and over 98% less on renewables.
Battery packs are built to their design and are assembled by a constantly expanding team locally in Rwanda.
How it Works
Technology
Their business model and technology are designed to fit seamlessly with the way drivers already operate. Drivers access smart batteries on demand from the network of Ampersand swap stations. 
With their solution drivers enjoy the savings of e-mobility without the upfront cost, and risk of buying a lithium battery pack or increasing downtime while waiting for batteries to recharge.
Renting a charged battery from Ampersand saves driver's over $500 per year. Each battery delivers around 60-90 km of range and requires swapping out less often than drivers commonly refuel with petrol. It's all made possible by Ampersand's unique Amper-Ops connected network of smart batteries and swap stations, and a vehicle drivetrain tailored for our customers' needs and African roads.
Amper OPS
Ampersand has created the future of battery fleet management through proprietary Amper-Ops online and mobile platforms.  
Amper-Ops agile system allows for Seamless management of battery packs with customizable parameters such as state of health analysis and geofenced alarms, Customisable insights to intimately understand the ROI of each station, driver, and battery and respond in real-time and Smart maintenance systems that automatically alert us to required battery or vehicle repairs before breakdowns happen
Founders
Josh Whale
Josh Whale is the Founder and CEO at Ampersand.
Additionally, Josh Whale has had a past job as the Junior Associate at Rouse.
Josh Whale studied at the University of Otago.
Alp Tilev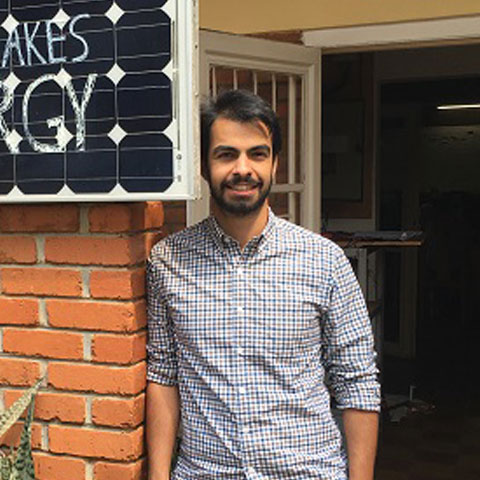 Alp is the Chief Technical Officer at Ampersand Motorcycles, where he's responsible for building electric vehicles for the mass market of Eastern Africa.
He first came to Rwanda to be a part of Great Lakes Energy, where he was working primarily on remote monitoring for solar energy systems of health centers in off-grid areas.
With his computer science background, he worked many years at Microsoft, where most recently he helped make Microsoft relevant for hackers and startups in the New York City community.
Leading initiatives in open-sourcing certain codebases and working closely with developers through small hacking camps.
He started his career as a developer working on natural language processing and machine learning for Fast Search, a Norwegian software startup.
Alp holds a BA in computer science from the University of Aarhus and Istanbul Bilgi University.
Investors & Funding Rounds
Shell Foundation
Ampersand Rwanda has secured a $3.5 million investment, the largest ever venture capital fund investment from Ecosystem Integrity Fund (EIF) into sub-Saharan Africa. The deal marks a turning point in global electric transport.
EIF's historic $3,5 million investment will allow Ampersand to rapidly scale up its electric motorcycle and swap station network in Rwanda. This will put hundreds more e-motos onto the road and create dozens more battery-swapping stations.
The investment will also enable Ampersand's expansion beyond Rwanda's borders and fuel the company's research and development arm. This financial boost puts Ampersand on track to electrify East Africa's motorcycle taxi fleet by 2030.
EIF's investment builds on the startup's acceleration through Startupbootcamp, early-stage funding from FactorE Ventures in 2018, generous support from the Rwanda Green Fund, USAID's Development Innovation Ventures, Shell Foundation, the UK FCDO's Frontier Technology Livestreaming fund, the New Zealand Government, and a loan from Blue Haven Initiative's Catalytic Fund.
Main Competitors
NewMotion: This is an Electric Mobility Service Provider.
Scoot Networks: This is an electric moped company that offers electric mobility-as-a-service vehicles.
Tork Motorcycles: It develops and manufactures electric motorcycles.
Related:
DPO Group: Story, Founders, Investors & Funding Rounds
Energy+: Story, Founders, Investors & Funding Rounds